Our coaching model can address challenges in many areas of your life.  It is designed for rapid changes and lasting results.  Each coaching program is customized based on your needs.
Here are some examples of what is possible: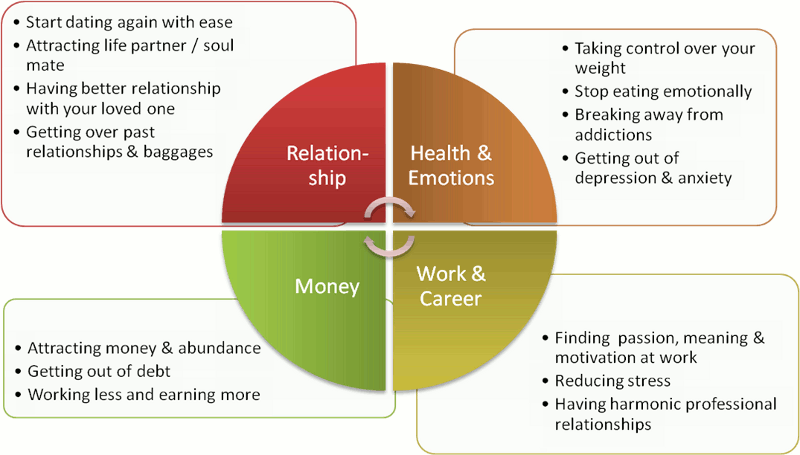 ---
TRANSFORMATION COACHING PROGRAM
This coaching session will start with "What do you want?" or "What would you like?"
If we know what we want and don't have it yet, mostly likely, something needs to be changed.  It could be your belief, your habits, your approach and etc.  During the private coaching session, we will discover what is holding you back.  Furthermore, we will discover new belief system that serves you and guides you automatically toward your goals.  So, it will have what you want effortlessly.  It will be a transformational experience!

1.5 hours per session
In-Person or Skype or phone
---
FAMILY SYSTEM CONSTELLATIONS
"Children seldom or never dare to live a happier or more fulfilling life than their parents. Unconsciously they remain loyal to unspoken family traditions that work invisibly. Family Constellations are a way of discovering underlying family bonds and forces that have been carried unconsciously over several generations." -Bertold Ulsamer
If you are encountering enormous amount of challenge in your work, money, relationship, health and emotion area, and no matter what you do, it doesn't seem to change a bit, you might be "entangled" with the history of your past generations.  A family constellation session allows you to acknowledge and resolve the entanglements, thus enabling the love in the family to flow in a more proper and straightforward way.  
Pre-constellation Interview:  30 minutes
Constellation:  1 – 1.5 hours
---
Be the change you wish to see in the world. ~ Gandhi